ECK6520 CNC Vertical Lathe for Piston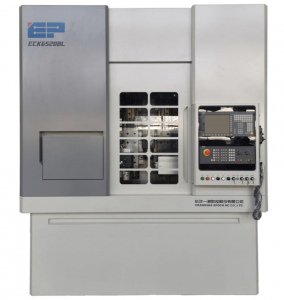 Function introduction:
The machine adopts a double-column structure with a hydraulic tailstock (optional servo tailstock) and hydraulic tensioning, and the double-column can be processed at the same time to cancel radial force effectively in cutting process. Thus the processing accuracy and efficiency can be improved greatly. It is equipped with new generation EJX1260A flat linear servo cutter (a patented product of EPOCH NC) and eight-stations hydraulic (servo) turret or Gang-type tool holder, which can complete rough and fine finishing of contour、ring groove and top of diesel engine/steel pistons in one clamping.
"Epoch Piston Curved Surface Data Processing Software" (independent copyright software product of EPOCH NC) is adopted, which can edit all kinds of profile data required by piston.
The standard double-channel SIEMENS 828D System is adopted, for which the programming is flexible and convenient, and the reliability is high.
Main technical parameters:
S/N

Item

Unit

ECK6520A

1

Piston diameter

mm

Φ80 ~ Φ160

2

Piston length

mm

70 ~ 200

3

Spindle

Bearing Spindle: A2-8

4

Spindle Accuracy

mm

0.003

5

Spindle speed

rpm

0 ~ 1500

6

Tailstock type

Hydraulic/servo tailstock

7

Tensioning type

hydraulic tensioning

8

Maximum oval amount of work-piece (diameter)

mm

4.0

9

Maximum profile of work-piece (diameter)

mm

3.0

10

Linear motor stroke

   mm

6.0

11

Repositioning precision of linear motor

   mm

0.0003

12

Machining roughness

µm

Ra0.8

13

Diameter Tolerance      (Piston Contour)

ΦD±0.007  CmK≥1.67 (aluminum)

ΦD±0.017  CmK≥1.67 (steel)

14

Machine (L×W×H)

mm

2300×2030×2700

15

Net weight of machine

kg

11000

16

Overall power of machine

kW

50