ECK6116 CNC Lathe for Piston Contour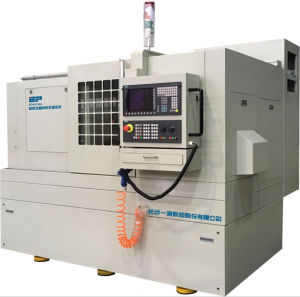 Function introduction:
This machine tool body adopts a horizontal overall structure, equipped with a new generation of EJX1260A flat linear servo cutter  and a dedicated driver, which can process middle-convex irregular ellipse or other complex shaped piston contour and solid-cam for piston.
"Epoch Piston Curved Surface Data Processing Software"  is adopted, which can edit all kinds of profile data that required by piston.
The standard double-channel SIEMENS 828D CNC system is adopted, for which the programming is flexible and convenient, and the reliability is high.
There are two ways for clamping pistons of the machine tool, the one is pneumatic tightening with tailstock, and the other is tensing with spring, pneumatic loosing, which can be chosen by users according to their technology.
  Main technical parameters:
| | | | |
| --- | --- | --- | --- |
| S/N | Item | Unit | ECK6116A |
| 1 | Piston diameter | mm | Φ50 ~ Φ160 |
| 2 | Piston length | mm | 50 ~ 200 |
| 3 | Spindle | | Bearing Spindle: A2-6 |
| 4 | Spindle Accuracy | mm | 0.002 |
| 5 | Spindle speed | rpm | 50 ~ 2000 |
| 6 | linear servo cutter | | flat/EJX1260A |
| 7 | CNC System | | SIEMENS 828D |
| 8 | Maximum oval amount of work-piece (diameter) | mm | 4.0 |
| 9 | Maximum profile of work-piece (diameter) | mm | 3.0 |
| 10 | Linear motor stroke |    mm | 6.0 |
| 11 | Repositioning precision of linear motor |    mm | 0.0003 |
| 12 | Machining roughness | µm | Ra0.8 |
| 13 | Process Capability | | ΦD±0.0075  CmK≥1.33 |
| 14 | Machine (L×W×H) | mm | 2355×1938×2043 |
| 15 | Net weight of the machine | kg | 5000 |
| 16 | Overall power of the machine | kW | 20 |