ETK2708 NC Boring Machine for Non-circular Steel Piston Pinhole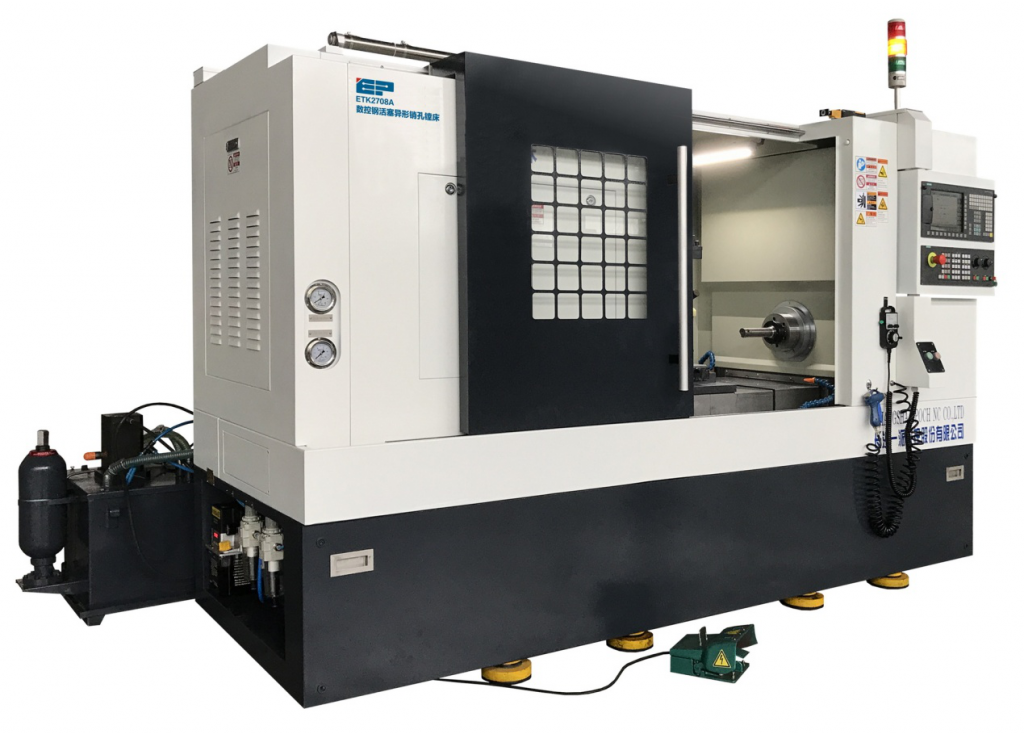 Function introduction:
This machine tool is mainly used for finishing and semi-finishing non-circular pinholes for forged steel pistons(tapered holes, curved holes, hyperbolic holes). Equipped with double spindles arranged left and right , the one is for fine boring (the left spindle), the other is for semi-fine boring (the right spindle).
The fine boring spindle is the static-dynamic pressure spindle and equipped with precision micro-displacement servo boring device, which completes non-circular piston pinholes (tapered holes, curved holes) surface machining under the condition of high-speed rotation of the spindle. The size of the pinhole can be fine-tuned by program, and the non-circular pinhole size and length can be adjusted by program.
SIEMENS 828D system is adopted, for which the programming is flexible and convenient, and the reliability is high.
Main technical parameters:
S/N

Item

Unit

ETK2708A

1

Outer diameter range of machined piston

mm

Φ80 ~ Φ200

2

Pinhole diameter range of the machined piston

mm

Φ30 ~Φ80

3

Fine boring spindle

Static-dynamic Pressure Spindle

4

Semi-fine boring spindle

Bearing Spindle: A2-6

5

Fine boring Spindle Accuracy

mm

0.002

6

Semi-fine boring Spindle Accuracy

mm

0.003

7

Fine boring Spindle Speed

(stepless speed regulation)

rpm

50~1500

8

Semi-fine boring Spindle Speed

(stepless speed regulation)

rpm

50~1500

9

Maximum effective offset of the fine boring edge

mm

0.06

10

Processing roughness

µm

Ra0.63

11

Fine-boring straight hole roundness

mm

0.002

12

Fine-boring monoliteral pinhole straight-line cylindricity

mm

0.004

13

Machine (L×W×H)

mm

2900×1700×2450

14

Net weight of the machine

kg

5500

15

Overall power of the machine

kW

25