ETK2106 NC Boring Machine for Non-circular Piston Pinhole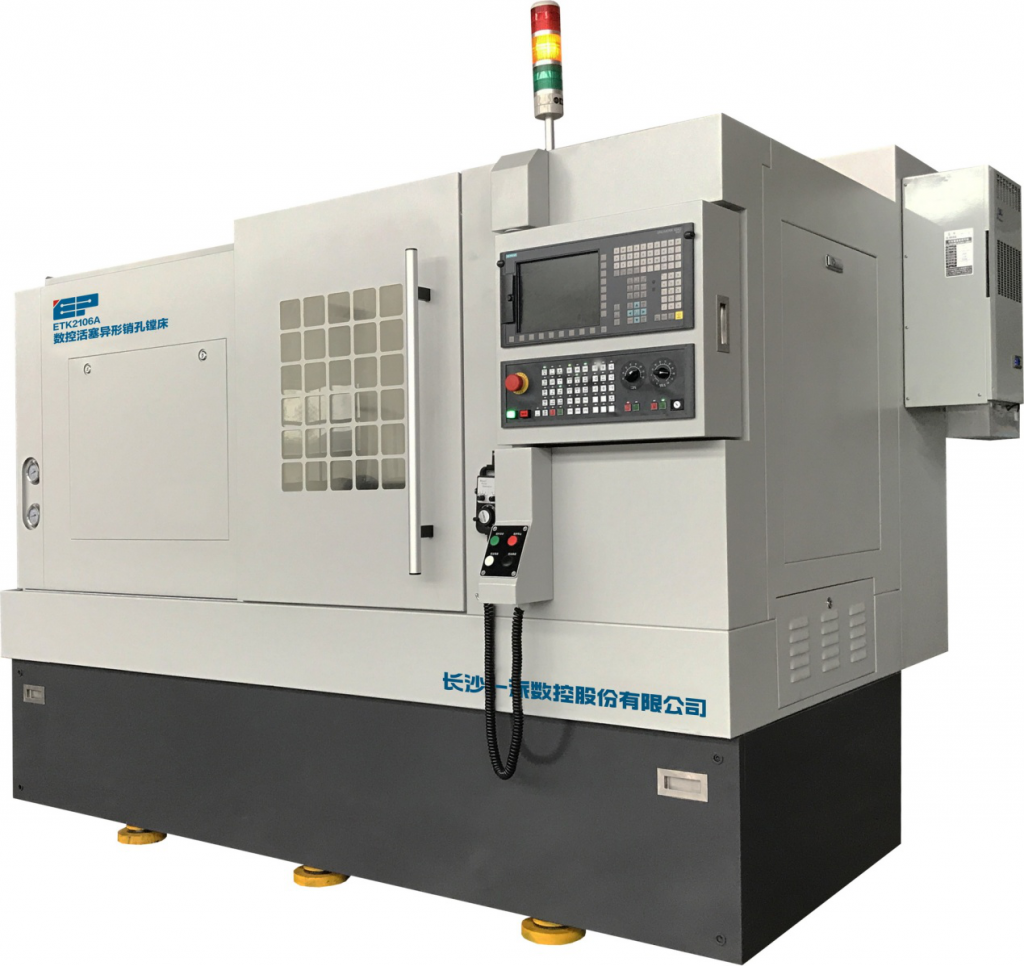 Function introduction:
This machine tool is mainly used for processing of non-circular piston pinholes, including tapered holes, curved holes and hyperbolic holes.
SIEMENS 828D system is adopted, for which the programming is flexible and convenient, and the reliability is high.
Equipped with micro-displacement boring servo device. The micro-displacement motion of the boring bar is completed in the condition of high-speed rotation of the spindle, which has the automatic dynamic balancing function and can maintain the high operation precision of spindle. The size of the pinhole can be fine-tuned by program, and the shape and the relevant position of the hole can be adjusted by program.
 Main technical parameters:
| | | | |
| --- | --- | --- | --- |
| S/N | Item | Unit | ETK2106A |
| 1 | Pinhole diameter range of machined piston | mm | Φ15 ~ Φ60 |
| 2 | Outer diameter range of the machined piston | mm | Φ50 ~Φ160 |
| 3 | Spindle Accuracy | mm | 0.002 |
| 4 | Spindle speed | rpm | 50 ~ 3600 |
| 5 | Maximum effective offset of the boring edge | mm | 0.06 |
| 6 | Straight hole cylindricity | mm | 0.002 |
| 7 | Straight hole roundness | mm | 0.001 |
| 8 | Surface roughness | µm | Ra0.3 |
| 9 | Process Capability | | ΦD±0.003  CmK≥1.67 |
| 10 | Machine (L×W×H) | mm | 2650×1720×2025 |
| 11 | Net weight of the machine | kg | 4500 |
| 12 | Overall power of the machine | kW | 20 |