ETK2806 NC Boring Machine for Non-circular Piston Pinhole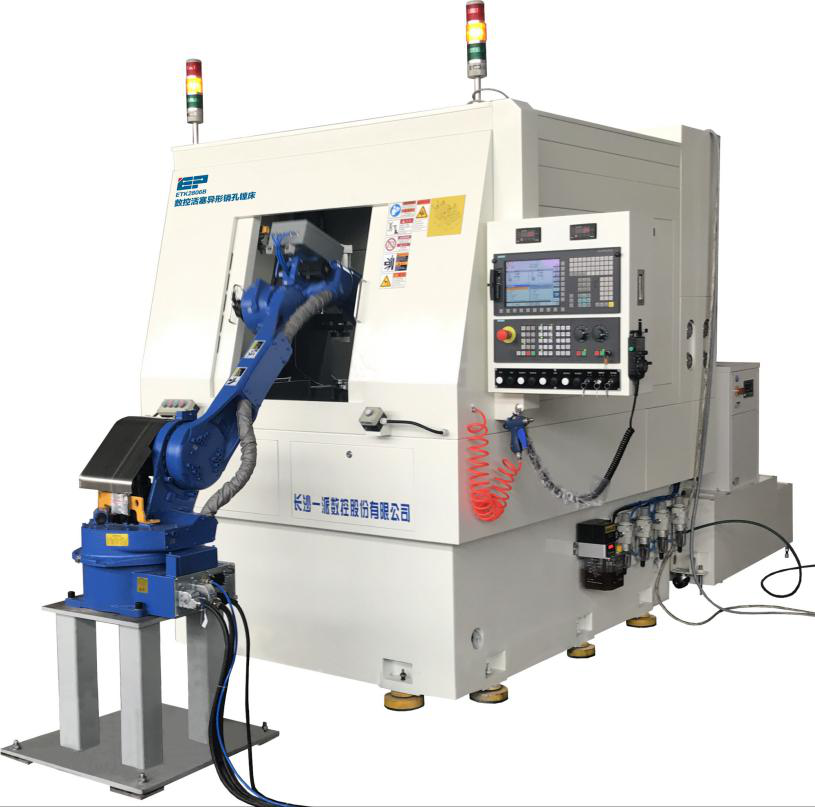 Function introduction:
This machine tool is mainly used for processing of non-circular piston pinholes, including tapered holes, curved holes, hyperbolic holes and superimposed elliptical holes (applicable to ETK2806C).
The standard double-channel SIEMENS 828D system is adopted, for which the programming is flexible and convenient, and the reliability is high.
Equipped with micro-displacement boring servo device. The micro-displacement motion of the boring bar is completed in the condition of high-speed rotation of the spindle, which has the automatic dynamic balancing function and can maintain the high operation precision of spindle. The size of the pinhole can be fine-tuned by program, and the shape and the relevant position of the hole can be adjusted by program.
Double -spindle and double-carriage structure is adopted, which is capable of processing two pistons simultaneously/separately with extremely high processing efficiency, especially suitable for automatic production of gasoline engine pistons.
Equipped with high-precision eddy-current separator chip removal device with high filtration precision, chip-removal laterally or backward can be chosen.
 Main technical parameters:
S/N

Item

Unit

ETK2806B/ETK2806C

1

Pinhole diameter range of machined piston

mm

Φ15 ~ Φ60

2

Outer diameter range of the machined piston

mm

Φ50 ~Φ160

3

Spindle Accuracy

mm

0.002

4

Spindle speed

rpm

50 ~ 3600

5

Maximum effective offset of the boring edge

mm

0.06

6

Straight hole cylindricity

mm

0.002

7

Straight hole roundness

mm

0.0015

8

Surface roughness

µm

Ra0.3

9

Process Capability

ΦD±0.003  CmK≥1.67

10

Machine (L×W×H)

mm

1650×2380×2347 (ETK2806B)

1800×2380×2605 (ETK2806C)

11

Net weight of the machine

kg

7000 (ETK2806B)

8000 (ETK2806C)

12

Overall power of the machine

kW

30